There are over 150 recipes of Kettle popcorn and Gourmet popcorn. The old fashion recipe (rule of thumb) we like to use for Kettle popcorn is the ratio of 1 - cup oil, 2 - cups raw popcorn, 3/4 -cup of white sugar and salt to taste. We like to use coconut oil or canola oil and butterfly yellow popcorn or mushroom popcorn when making a batch with the kettle corn popper. If you want to make a caramel flavor popcorn just switch out the white sugar with brown sugar. There is over 150 recipes of kettle popcorn and gourmet popcorn. So have fun and start popping today.
80 quart kettle popcorn popper
Half batch recipe: 2 - cups of oil, 4 - cups raw popcorn, 1 1/2 - cups sugar and salt to taste
Full batch recipe: 4 - cups of oil, 8 - cups raw popcorn, 3 - cups sugar and salt to taste
picture 1 above (mushroom popcorn) and picture 2 below (yellow butterfly popcorn)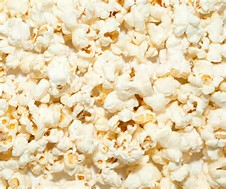 If you like different flavors we like to use Gold Medal Products at 1-800-543-0862. There is a variety of 10 to 20 flavors from glaze pop, flossine, popcorn shakers, colored salt, butter flavor and many more like caramel, cheese, apple, hot cinnamon, cotton candy ect.,ect. . When using these flavors and recipes it is endless for attracting new customers and making more money for your kettle popcorn business.